Stop waiting, start innovating
and accelerate your time to market.
Thanks to the FINALTA CAPITAL & Canadian Manufacturers & Exporters (CME) $10 million Tax Credit Financing Fund, CME members can reduce refund wait times for tax credits like the Scientific Research and Experimental Development (SR&ED) Tax Credit Program, among others.
GET MORE CAPITAL OUT OF YOUR TAX CREDITS
FINALTA CAPITAL finances accrued tax credits — before the year is over and your tax credit claim is filed — and issues 25% of your annual loan on the first day of each quarter in anticipation of budgeted expenditures for that quarter. Thanks to accelerated disbursements, the annual loans overlap longer and you access at least 50% more cash from the same tax credits on your balance sheet than with any other financial institution.
"The Tax Credit Fund is a new way for CME members to increase their cash flow dedicated to R&D projects. By financing past and accrued SR&ED tax credits, this fund is a game changer for our members looking at finding ways to conduct their R&D activities and bring their products to markets faster, gaining huge competitive advantage over their competitors, both domestic and foreign."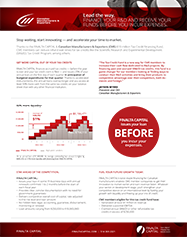 Download the PDF version
50% more liquidity: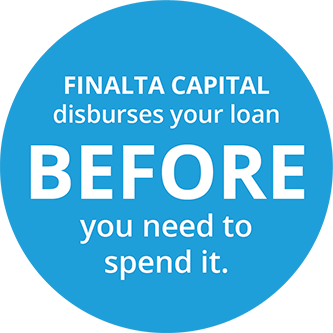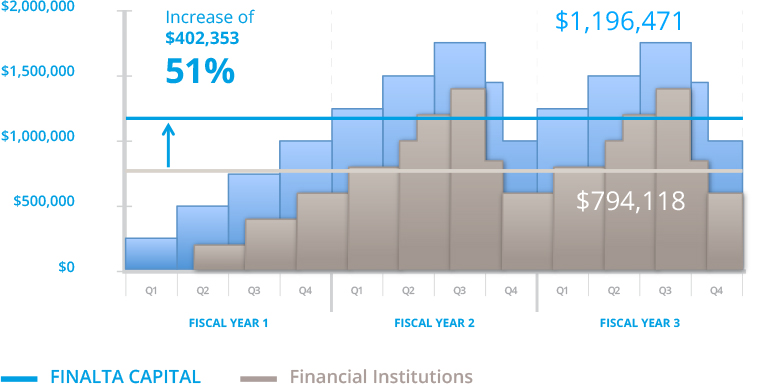 ---
STAY AHEAD OF THE COMPETITION.
FINALTA CAPITAL:
Issues your loan in some 15 business days with annual renewals confirmed 1 to 2 months before the start of each fiscal year

Provides clear, concise documentation with no need for government guarantees

Delivers competitive overall cost of capital, rate adjusted to the risk level and loan amount

No hidden fees: legal, accounting, guarantee, disbursement, monitoring or renewal

Loan amounts varying from $250,000 to $10,000,000
FUEL YOUR FUTURE GROWTH TODAY.
FINALTA CAPITAL's tailor-made financing for Canadian manufacturers enables CME member companies to get their innovation to market earlier and earn revenue faster. Whatever your sector or development stage, you'll strengthen your competitive stance on an international level by fueling your growth with liquidity and freeing up your line of credit.
CME members eligible for this tax credit fund have:
Generated at least $1 million in revenue

Delivered a positive EBITDA

Claimed annual SR&ED or other refundable tax credits in excess of $250,000
---
Voir les données et hypothèses de comparaison avec les autres institutions financières
Données et hypothèses