Finalta Capital renews the Guilde du jeu vidéo du Québec's $20 million tax credit financing fund
September 21, 2023 – La Guilde du jeu vidéo du Québec and FINALTA CAPITAL are pleased to announce the third renewal of the non-dilutive tax credit financing fund for members of the Guilde du jeu vidéo du Québec. This new $20 million envelope established by FINALTA CAPITAL will allow SMEs in the video game and digital entertainment industry to benefit from financing terms adapted to their reality, allowing them to accelerate the development and commercialization of new intellectual property. The FINALTA CAPITAL team is looking forward to meeting all the members at the AGM cocktail hour that it is sponsoring.
FINALTA CAPITAL is a financial institution that supports the innovation and growth of the video game industry. This enhanced financing solution for businesses claiming tax credits for the production of multimedia titles and for SR&ED aims to maximize cash flow for studios, contributing to the success of this local industry.
With the largest private fund for non-dilutive financing of tax credits and government grants in Canada, FINALTA CAPITAL has loaned nearly $500 million to fast-growing innovative companies to date!
Double the liquidity for members:
Double the funds loaned on the basis of the same tax credits
Loan disbursement BEFORE and at the same time as creative and service expenses arise
No holdback
Financial close in 15 business days
The expertise of tax credit specialists who can recognize the full value of eligible projects and support studios in their budget planning
The financing fund dedicated to La Guilde members will help video game companies become market leaders and position themselves globally.
"The fund offered by Finalta Capital is keyed to the real situations of most La Guilde member studios, as it allows access to greater liquidity with no holdback. This is an important service to ensure that studios can grow."
JEAN-JACQUES HERMANS
Executive Director, La Guilde du jeu vidéo du Québec
"This tax credit financing fund for members of the Guilde du jeu vidéo du Québec, with investment parameters developed in collaboration with leaders of the Quebec video game industry, will allow them to hasten the delivery of their intellectual property to market in time for periods of great demand."
PIERRE-LUC LABELLE
President and Chief Operating Officer, Finalta Capital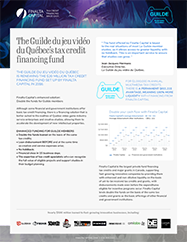 Téléchargez en format PDF
---
For more information:
TJ Allard -
Manager, Member Relations and Partnerships -
La Guilde du jeu vidéo du Québec -
tj.allard@laguilde.quebec | 514 581 5218
About Finalta Capital
Finalta Capital is the largest private fund financing tax credits and major grants in Canada, supporting fast-growing innovative companies by providing them with enhanced and non-dilutive liquidity on the basis of yet-to-be received tax credits and grants, with disbursements made even before the expenditures eligible for incentive programs occur. Finalta Capital lends double the funds on the basis of the same tax credits and grants as the basic offerings of other financial and government institutions.
For more information on the offer for La Guilde members:
Éric Durand -
Vice President, Business Financing -
Finalta Capital
edurand@finaltacapital.com | 514 360 0722
For more information on this partnership or on the services offered by La Guilde, visit our partners page, and feel free to contact TJ Allard, Member Relations and Partnerships Manager,at tj.allard@laguilde.quebec
---
See the comparison basis (data and hypotheses) with other financial institutions
Data and hypotheses